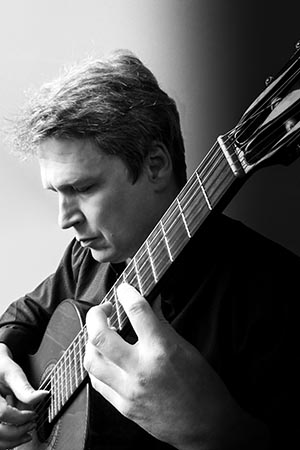 Oleg Boyko is a classical guitarist and composer born in Mariupol. He studied in Chernihiv's Music College and National Musical Academy of Ukraine in Kiyv, with professor Nikolaj Mihajlenko. He also did his postgraduate research at the S. Cecilia Conservatory in Rome and Frankfurt University of Music and Performing Arts.

As a soloist he took part in many international festivals and competitions, among them Warsaw, Poland (2nd prize), Berlin, Germany (Grand-prix), Parma, Italy (1st prize), Frankfurt, Germany (Grand-prix) and others.

He also improved his skills with many prominent guitarists, such as Manuel Baruecco (USA), John Willams (Australia), Stefano Cardi (Italy), Carlo Marchione (Italy), David Russel (Great Britain), Aniello Desiderio (Italy).

Oleg perform in Germany, France, Italy, Lithuania, Latvia, Finland, Spain, Norway, Denmark, Portugal, Luxembourg and many other. His concert program vary from baroque to modern music and his own compositions.

He is also founder of an International guitar festival in his hometown of Chernihov and is frequent jury member of the regional and international guitar competitions. Oleg has recorded 7 solo CD's.